Description
Can one woman handle a foursome made up of an Anasazi god, a demon and an alpha werewolf as lovers?
Ever since Tabatha's family was murdered, she's always faced things head-on, but now those killers and their allies are trying to kill her, too.
As the foursome works to solve the mystery of Tabatha's special purpose, Wol-itelm, Chax and Hoyt must battle the enemy when it strikes their home. Snakes, wayward demons, and opposing were-clans attack Tabatha every chance they get. All three of Tabatha's mates must come together to fight these enemies to save the woman they love.
Can they save her, and can they also tame their wild female both in bed and out of it?
[spacer color="264C84″ icon="Select a Icon" style="1″]
ABOUT AUTHOR TRINITY BLACIO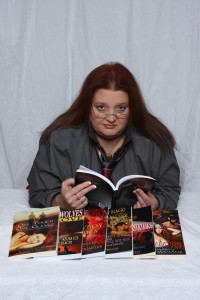 Trinity Blacio has been writing now professionally for ten years. Currently she has available titles from Freya's Bower, Ravenous Romance, and Riverdale Anenue Books, Ellora's Cave with more to come. She is always excited to be writing, hearing from readers, and helping fellow authors.
One of Trinity's strongest beliefs is that no matter how small or big an author is, they should always help each other in the profession. With this idea in mind she has created a place where authors, editors, publishers, and anyone in the publishing business can come together to help each other.
http://groups.yahoo.com/group/publishingtrove/
She lives in Wellington, Ohio and shares with her two children, Cheyenne and Rudy, two cats Smokey and Missy. When Trinity has time you can find her reading all sorts of romance novels. But as you have figured out her favorite are Dark Fantasy, Erotic, Menage, Erotic Horror.
You can find her on facebook, myspace, twitter, and of course here.
Other Places to Look:
http://groups.yahoo.com/group/Realms_of_SciFi/
https://sixjavajunkies.wordpress.com/
– See more at: http://trinityblacio.com/bio/#sthash.cm92mXvY.dpuf
What did you think of our review?
Let us know your thoughts in the comment box below!
📖 Need a  fix for your Paranormal Cravings and don't want to miss any of our posts? 📖
Follow Paranormal Cravings: Facebook | Twitter | GoodReads