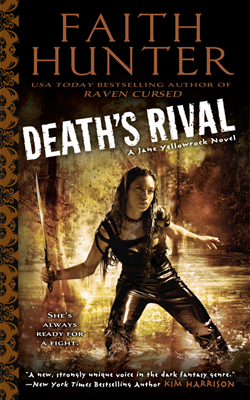 One of paranormal fantasy's toughest heroines, 
Jane Yellowrock
, is back with a vengence. 
Death's Rival
, the 5th book in the Jane Yellowrock series, will hit bookstores on October 2nd, 2012.
J
ane Yellowrock is a shapeshifting skinwalker you don't want to cross—especially if you're one of the undead…
For a former vampire killer like Jane, having Leo Pellisier as boss took some getting used to. But now, someone is out to take his place as Master Vampire of the city of New Orleans, and they're not afraid to go through Jane to do it. After an attack that's tantamount to a war declaration, Leo knows his rival is both powerful and vicious, but Leo's not about to run scared. After all, he has Jane. But then, a plague strikes, one that takes down vampires but leaves humans untouched, as carriers of the dread disease.
Now, to uncover the identity of the vamp who wants Leo's territory, and to find the cause of the vamp-plague, Jane will have to venture into the underbelly of vamp society, where rules were made to be broken. As she circles closer to the truth, she finds the answers to the secret that could turn every vampire in the U.S. true-dead…
Iris
My name is Iris. I am a mom (2 kiddies) and Art Director and I love to read books with a Happy Ever After. I launched Paranormal Cravings in 2010. But I first began reviewing books years ago on my old .blogger website. My bookshelf links to my Goodreads account, where you can check out over 900 of my book reviews. Besides being a book reviewer am I also an Art Director with over 17 years of experience in Design, Social Media Design, Internet Design, Social Media Marketing, Book Tours and other Online Book Promotions. On this website we offer related features, reviews, giveaways, interviews, guest posts and so much more. With PC BOOK TOURS we help authors promote their books online on all media. This fantastic service gives authors the exposure they deserve and offers bloggers more readers for their blogs.