Arcadia Bell series by Jenn Bennett
I'm hooked! I have a new addiction … 
the Arcadia Bell series by Jenn Bennett !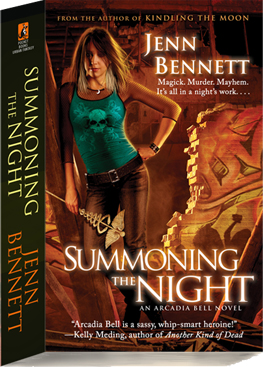 Out now!
A romantic urban fantasy series featuring Cady Bell, a renegade magician who slings drinks at a demon-friendly tiki bar in northern California . . . and co-starring Lon Butler, red-hot pirate-mustached Earthbound demon, and his irrepressible teenage son, Jupe!


Summoning the Night #2
The influential head of the local Hellfire Club taps Cady to track down the fiendish bogeyman, and now that she's dating red-hot Lon Butler, the Club's wayward son, she can hardly say no. Cady and Lon untangle a gruesome thirty-year trail of clues that points to danger for the club members' children. But locating the person behind the terror will require some metaphysical help from Cady's loyal bar patrons as well as her potent new Moonchild powers—and she'd better figure it out before the final victim disappears and her own darkest secret becomes her biggest enemy.


My Thoughts This one is really a quick read with only +/- 300 pages and because it is written so well and addicted the fun was over with half a day 🙂 Just like the first book Jenn Bennett sets a great story that pulls you in! She is a talented writer and i def want to read more of her books. 


But F*ck…. now i have to wait for the next fix/book coming out in december "Leashing the Tempest". Summoning the Night was like i said a real page turner, kept me up at night it was exciting and non stop fun from page one. I really liked Arcadia Bell, her much older boyfriend Lon Butler and his son Jupe. Maybe its me but i mist a little bit of tension in the book maybe next time there can me a lost ex-lover, little romance chemistry or something to spice it up because just before the end i have to confess i skipped a few pages "oops" the battle was a little bit to long for me and the the blackmailing affair was a little bit off! 


I think i just needed to read about caddy and Lon again! Therefore the 4 stars and not 5.  I will be waiting for "Leashing the Tempest"!
Paranormal Cravings  REVIEW RATING: 

My Thoughts #1 KINDLING THE MOON
This is the first book i read by Jenn Bennet. KINDLING THE MOON kind of reminds my of the Elemental Assassin series! I honestly didn't really know what to expect, but for one thing I did not expect to fall in love with it. It's a real page turner, didn't  want to put it down for a second  … yeeez a new addiction!


KINDLING THE MOON is a flawlessly original urban fantasy. With never a
dull moment. The writing is excellent with a great sense of humor, the characters are realistic and especially Lon Butcher very charming,


If you're looking for a fresh take on a genre…You really want to buy this on. Jenn Bennett has created an very addicted world full of demons, magic and mystery that will pull you in and devour you!


P.s. It is Parlez-vous français (do you speak french?) NOT Parle-tu francais … now it says "Your speaks french" But Heh my English is with alot of type-o's… so who am i to judge 🙂


"Turn left in two hundred feet " the computerized voice said in a cheery voice. "There is no turn in two hundred feet you bitch " I yelled toward the screen. "Zoom out." Nothing happened. "ZOOM. OUT " I said again louder before the screen responded to the voice-activated command." 
― Jenn Bennett, Kindling the Moon


Look out for the next book and pre-order your copy.
ARCADIA BELL 2.5 Novella (December 25, 2012): LEASHING THE TEMPEST

ARCADIA BELL 3 (June 2013) BINDING THE SHADOWS

ARCADIA BELL 4 (2014): CROSSING THE ÆTHYR
Visit the website of Jenn Bennett at http://www.jennbennett.net
Paranormal Cravings  REVIEW RATING: 
Iris
My name is Iris. I am a mom (2 kiddies) and Art Director and I love to read books with a Happy Ever After. I launched Paranormal Cravings in 2010. But I first began reviewing books years ago on my old .blogger website. My bookshelf links to my Goodreads account, where you can check out over 900 of my book reviews. Besides being a book reviewer am I also an Art Director with over 17 years of experience in Design, Social Media Design, Internet Design, Social Media Marketing, Book Tours and other Online Book Promotions. On this website we offer related features, reviews, giveaways, interviews, guest posts and so much more. With PC BOOK TOURS we help authors promote their books online on all media. This fantastic service gives authors the exposure they deserve and offers bloggers more readers for their blogs.