Adult excerpt:
            She stopped behind several kids staring at monkeys behind a glass wall. The smaller ones with long tails and cute faces brought a smile to her face.
"Now that's just butt ugly," Greg said.
She found him standing a few feet away, staring at the larger baboon. Quietly, she strolled over and peered past his shoulder. The animal had a bare rear, but fur covered the rest of its body, except its long nose.
"Ew."
"I don't understand why people come to look at such hideous creatures."
"They're different to look at."
"I could change into my wolf form and give people something different to look at."
"Now that I would love to see."
His eyes shimmered with surprise. "Really?"
"I've seen werewolves change before. It looks painful, and sounds like it too, but to consider how your body shifts and changes is…incredible." She licked her lips as she pictured Greg changing from his wolf form into a man. His muscles would stretch and tighten. His dark hair would stand out from his bare flesh. And his cock would grow as if he were getting a large hard-on, only it would enlarge twice the normal size. Every werewolf she'd seen change had an impressive cock. Cheeks warming, she imagined what Greg's would look like.
[divider]
Welcome to the Neighborhood by Mary Abshire
Sparks fly under the full moon in paranormal suburbia.
Vampire Alexandria Cartwright believes she's found the perfect home in paranormal suburbia. An independent young woman and professional financial adviser, Alexi needs help from no man, human or paranormal. Until burglars break into her house and steal her most valuable possession–one which could lead to her demise.
Werewolf Gregory Holmes is instantly attracted to his new neighbor and wants nothing more than to protect her from any who would seek to harm her. Helping Alexi recover her stolen safe seems to be the perfect opportunity to show her how he feels.
Centuries of experience have shown Alexi all men are greedy pigs who only think with the brain below their belt. But as Greg comes to her aid repeatedly, she wonders if he's the real deal. Can she overcome her loathing for men? Can Greg break through the wall she's built to show her the meaning of love?
CONTENT WARNING: Language. Violence. Graphic sex
[divider]
GIVEAWAY
(E-book copy of Welcome to the Neighborhood by Mary Abshire)
10/08/2013 – 10/15/2013
 [divider]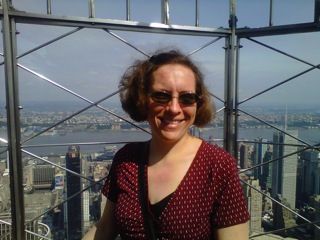 ABOUT THE AUTHOR:
Mary lives in Indiana and is a lifetime lover of the paranormal, sci-fi, and fantasy. When she's not slaving away at her government job, she is a Paranormal Romance and Urban Fantasy Author. She creates fantastical worlds with vampires, demons, werewolves, and other supernatural creatures. Dive into her books and find action, a dash of mystery, and seductive men with passionate hearts.
Website | Facebook | Twitter | Goodreads | LinkedIn
Other Books by Mary Abshire:
(The Soul Catcher series, paranormal erotic romance)
Claiming the Evil Dead
Catching an Evil Tail
Fighting Evil
Love Conquers All Evil