The Alpha Female Shifter – Jane Yellowrock
Jane is a Cherokee skinwalker, a shifter who can take the shape of any animal (as long as it meets the requirements of her magical system, if course.) There are a lot of reasons to consider Jane an alpha beast. And not just because of her inner alpha Beast.  A true alpha has to be more than just muscle. She has to have brains and compassion to be a true leader. She has to be able to feel the pain of the creatures who depend on her. But let's face it. Mostly? She has to be able to kick butt.
Well, okay, maybe not just anyone's butt. Maybe not an entire werewolf clan. Maybe not a master vamp like Leo Pellissier, the Master of the City, or Sabina, the Outclan priestess. But hey, with most any other vamp—or other supernat creature—she can hold her own.  Jane is gutsy and never runs away from a fight (even when she probably should). She has the tools to be a rogue-vamp killer, the weapons, the know-how, and the inner strength and resolve to take the fight to the biggest, badest, human-killing vamp out there. She has a bloody job, and she does it well, taking the heads of the rogues who feed off of humans—hunting and killing them, but only with the approval of the New Orleans' chief fanghead, of course.
Jane is tall, dark, and striking in appearance—way taller than me. And she's Cherokee, a skinwalker by birth, with an inner Beast by accident. When she was child, fighting for her life, she accidently did black magic and absorbed the soul of a mountain lion by mistake. Now the two souls share her skinwalker body, and the various forms she can take. Beast and Jane are trying to evolve together, to merge their disparate dreams, hopes, feral natures, and loves. It ain't exactly easy! But I think an evolving, growing character is way more interesting than a static one. I think all really good alphas have to move forward in their thinking and their lives or they just get boring. Jane makes mistakes, screws up, and has to learn some lessons over and over, just like the rest of us mundane humans.
Most important to me, however, Jane Yellowrock defends the innocent. She is soft in her love of, and protective instincts toward, children. When I first started  envisioning Jane, she was too hard, almost brittle, all sharp edges and violence with no nurturing about her. Then the husband of a friend (okay, it was Guy, Kim Harrison's hubby) read the partial manuscript and he was able to tell me that Jane was cold. With that little nudge, suddenly Jane sprang to life, clear and brilliant on the page, and after that, well, everything else fell into place!
Ummm. Okay, everything but her love life. But that's a blog for another time!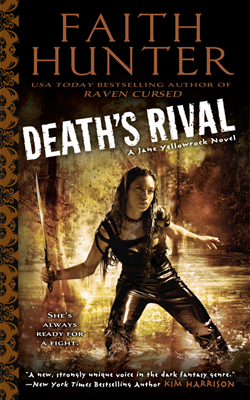 One of paranormal fantasy's toughest heroines, 
Jane Yellowrock
, is back with a vengence. 
Death's Rival
, the 5th book in the Jane Yellowrock series, will hit bookstores on October 2nd, 2012.
J
ane Yellowrock is a shapeshifting skinwalker you don't want to cross—especially if you're one of the undead…
For a former vampire killer like Jane, having Leo Pellisier as boss took some getting used to. But now, someone is out to take his place as Master Vampire of the city of New Orleans, and they're not afraid to go through Jane to do it. After an attack that's tantamount to a war declaration, Leo knows his rival is both powerful and vicious, but Leo's not about to run scared. After all, he has Jane. But then, a plague strikes, one that takes down vampires but leaves humans untouched, as carriers of the dread disease.
Now, to uncover the identity of the vamp who wants Leo's territory, and to find the cause of the vamp-plague, Jane will have to venture into the underbelly of vamp society, where rules were made to be broken. As she circles closer to the truth, she finds the answers to the secret that could turn every vampire in the U.S. true-dead…
[If this raffle is not showing right you can go here]
Faith is giving away one copy of Death's Rival (US only). 
All you have to do is enter your name and email to win, but there are extra 
entries options if you're interested! (runs for 14 days till OCT 17th)
About Faith Hunter:


Faith Hunter writes dark urban fantasy: Skinwalker series, featuring Jane Yellowrock with Skinwalker, Blood Cross, Mercy Blade, Raven Cursed, and Death's Rival. Her Rogue Mage novels, a dark, urban fantasy series—Bloodring, Seraphs, and Host—feature Thorn St. Croix, a stone mage in a post-apocalyptic, alternate reality.

Find Faith here: 
http://www.faithhunter.net | Goodreads | Twitter